PaulaG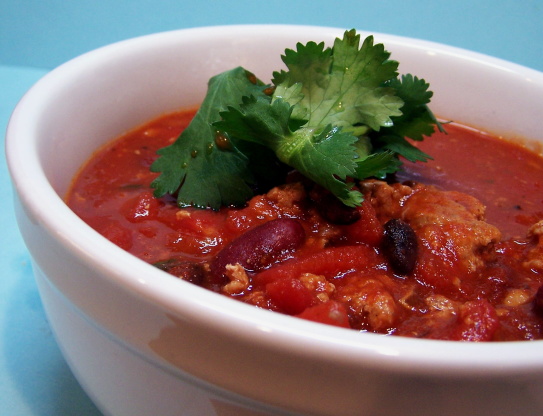 Chopped broccoli stems are a tasty, healthy addition to chili. Make this dish vegetarian/vegan by eliminating the beef and adding a large tin of chickpeas, rinsed and drained. Created for the 1st Zaar Cooking Challenge, June 2002.
Top Review by PaulaG
I selected this for the Hidden Gems event and this is truly a hidden gem. It is a rich chili packed full of veggies. I used ground turkey in place of the ground beef. This recipe made way more than the 6 servings for DH and I. I can envision this served over spaghetti or pasta which is what I plan to do with some of the leftovers. I also plan on freezing some for later. Great recipe!
Peel broccoli stems and cube; set aside.
In a large pot, place undrained tomatoes, tomato paste, and sugar; stir to combine.
In a large skillet, begin to brown the ground beef; as meat starts to release its fat, add fresh garlic to pan and stir well.
Saute until meat is browned; add to tomatoes, leaving fat behind in pan.
In same skillet, over medium heat, add oil to pan and heat; add onions and saute until softened.
To onions, add broccoli stems and chopped mushrooms; stir.
Sprinkle salt, black pepper, cumin, oregano and cayenne over vegetables and stir so that the vegetables are coated with the spices.
Add entire skillet mixture into the pot, add chili powder, and stir well.
Over high heat, bring mixture to a bubble; reduce heat to medium-low and let simmer for 30 minutes.
Add beans and cilantro to pot, stir well, and let mixture simmer for an additional 10 minutes or until beans are heated through and vegetables are cooked.
Taste; add additional seasonings if desired, and serve.
Note: like most chilis, this will be better the second day.