dizzydi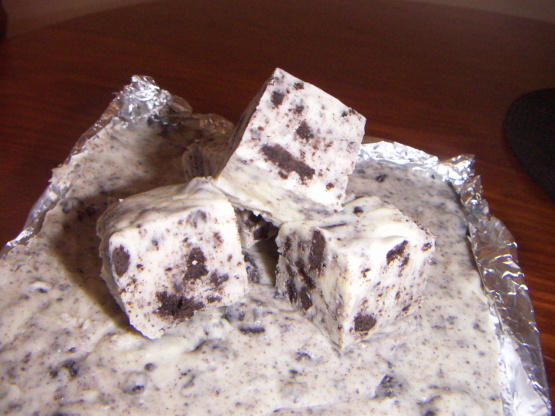 This is a yummy fudge that everyone enjoys.

This was the surprise hit of my holiday trays and one of the easier to make. It is a nice, creamy fudge. Don't be tempted to increase the crushed cookies. I did in one batch & it wasn't nearly as pretty as the other batches. It was muddier looking. The tip on using foil was appreciated. Thank you for sharing the recipe!
Line an 8 x 8-inch square baking pan with foil.
In heavy saucepan over low heat, melt chocolate with sweetened condensed milk and salt.
Remove from heat.
Stir in crushed cookies.
Spread evenly in prepared pan.
Chill for 2 hours or until firm.
Turn fudge out onto cutting board.
Peel off foil and cut into squares.
Store tightly covered at room temperature.