Cookies and Cream a Layered Shot!
Rita1652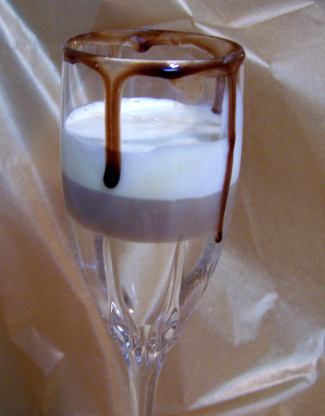 I just so enjoyed his being inspired by Cookiedog I made this after reading her review. I was writing her a Thank you saying nothing is as good as caramel except for chocolate and caramel. So you see where I came up with the name! This is for you cookiedog.

Loved this!!! It tastes like a dessert in a shot glass. I used Bailey's Caramel Irish Cream and dark creme de cacao. I enjoyed every last drop including the drips of caramel & chocolate on the glass! Thanks Rita - it definitely gets my stamp of approval :)
1⁄2 ounce Creme de Cacao (I used in the photo white but for greater effects use dark)
1⁄2 ounce butterscotch schnapps
1⁄2 ounce irish cream
1⁄2 ounce cream
1⁄8 teaspoon caramel topping
1⁄8 teaspoon chocolate fudge topping
Place chocolate and caramel on to a plate swirl them together.
Dip the rim of the glass into chocolate and caramel topping.
Layer each of these into a shot glass in the order given.
The secret is to pour slowly, barely dribble the liqueurs into your glass.
Start with your first liqueur and pour it into your glass, now take your spoon and place the tip of the spoon very close to your first liqueur, now carefully and slowly pour in your second liqueur over the BACK of the spoon and into the glass topping with cream.