Ms B.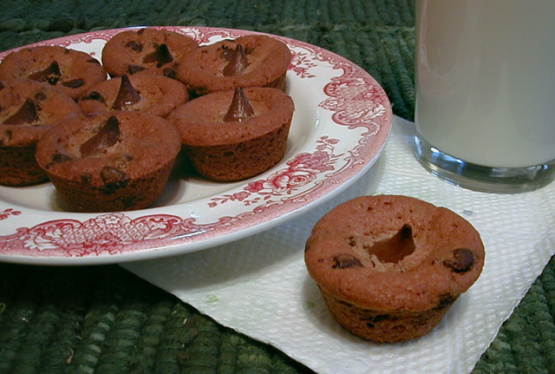 This is more of a technique for differently shaped cookies than a recipe. Of course, your own favorite Chocolate Chip Cookie dough can be used instead of the purchased dough. The cookie bakes up around each kiss in the muffin tin. It is almost like a chocolate filled cookie. The recipe was adapted from Pampered Chef.

So quick and easy dessert to make! Thank you very much. I have already done different variations with this (oatmeal cookie dough and dark chocolate kissess, Sugar cookie dough with peanut butter chips, etc. the possiblities are endless). I will definately keep making this one over & over =]
1

(18 ounce) package refrigerated chocolate chip cookie dough

36

hershey milk chocolate kisses, unwrapped
Preheat oven to 350°F.
Cut dough into 9 slices; cut each slice into 4 pieces.
Form each piece of dough into a ball.
Place a ball of dough into each cup of a MINI muffin tin.
Push a chocolate kiss into each ball of dough.
Bake 10-12 minutes.
Let cookies cool in pan 15 minutes before removing.