Cookie Jar Peanut Butter Cookies
Charlorae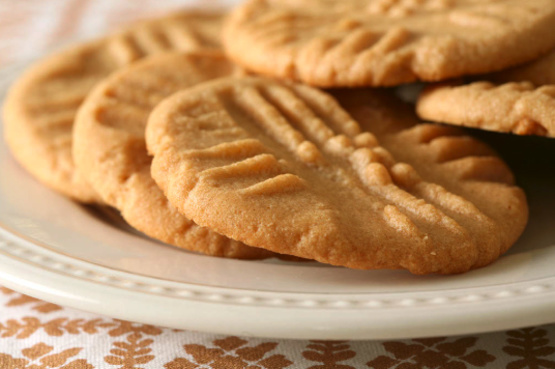 My favorite peanut butter cookies! Crispy on the outside, chewy on the inside--just the way I like them. From Sheila Lukins USA Cookbook, a great book!

@ chef 1396052. I would guess you probably used margarine not butter and that is why it would taste like "pure shortening", because the shortening ratio is not that great!!! Or you used old rancid shortening and that is what you tasted. I have used this recipe for years. It's ratios are correct so you don't taste shortening like some of the other ones that use all shortening. You also have to use a good quality peanut butter and not the bottom of a stale jar or it. Great recipe its a keeper!!
Heat oven to 350°.
Sift together the flour, baking powder, baking soda and salt, set aside.
Cream the butter, shortening, and both sugars in a large bowl with an electric mixer at medium speed until light and fluffy.
Add eggs one at a time, beating well after each addition, then mix in the peanut butter.
Add the flour mixture by the cupful and beat at low speed to mix well.
Shape the dough into 1 inch balls and place on ungreased baking sheets (I line the sheets with parchment paper) about 2 inches apart.
Press each cookie twice in each direction with a lightly floured fork to make a crosshatch design.
Bake 10-12 minutes.
***Do not overbake--they will still be a bit pale, but if you overbake, they won't be chewy on the inside.
***Use a spatula to transfer to a rack to cool.