Cookie Ice Cream Sundae Cups
Saturn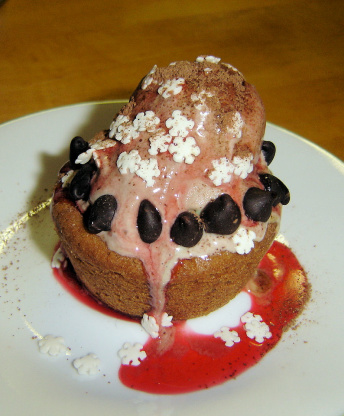 This recipe is great for a kid's party.

Top Review by ohgal
Thanks for the fun idea for the cookie cups. I turned the muffin pans over, and shaped the dough over the bottoms of the greased muffin pan rather than pressing the dough on the inside.<br/>I made the ice cream sundaes the first time I made them, the next time I filled them with chocolate pudding & whipped cream. The grandkids thought they were a great treat.
1

(18 ounce) package refrigerated chocolate chip cookie dough

6

cups ice cream (your choice of flavor)
1 1⁄4 cups caramel ice cream topping or 1 1⁄4 cups chocolate fudge topping
whipped cream, to garnish
candy sprinkles, to garnish
Lightly grease 18 muffin pan cups.
Shape cookie dough into 18 balls.
Press the cookie dough onto bottoms and spread to the sides of the muffin pan cups.
Placw in preheated oven of 350 degrees.
Bake 14 to 18 minutes or until golden.
Let cool for 10 minutes, then transfer onto a wire rack.
After cookie cups have cooled completely,top with about 1/3 cup of ice cream.
Drizzle with ice cream topping.
Add a dollop of whip cream and then sprinkles, finally top with a cherry.
Watch the kids faces light up.
Enjoy!