Diana Yen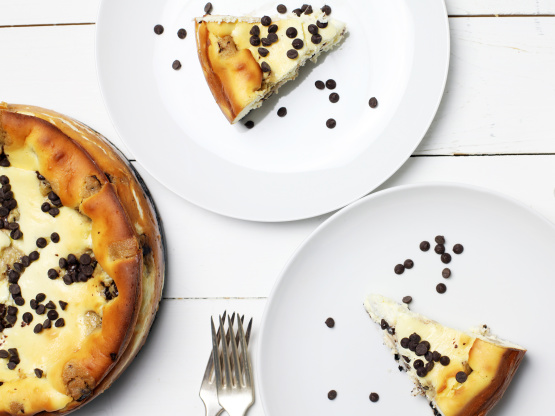 This is an altered recipe from Taste of Home magazine. I used store bought cookie doughfrom the refrigerator section to speed things up a bit. Very good.

I made this for a party, and it was a huge hit! It was absolutely delicious. My friends were delighted that two of their favorite flavors, cheesecake and cookie dough, were together in one dessert! I actually forgot to put the mini chocolate chips on top, but I don't think anyone minded. It disappeared quickly and I received many compliments and requests for the recipe. And I thought it was relatively easy to make, since it uses store-bought cookie dough. Thanks, Erin, for sharing this recipe. :-)
In a small bowl, combine cookie crumbs and sugar, stir in butter.
Press into the bottom and sides of a greased 9" springform pan, set aside.
In a mixing bowl, beat cream cheese, sugar until smooth.
Add eggs, beat until combined.
Add sour crem and vanilla, beat until well blended.
Pour over crust, set aside.
Cut up cookie dough into teaspoon sized cubes.
Drop over filling, pushing below the surface.
Dough should be completely covered.
Bake at 350F for 45-55 minutes or until the center is almost set.
Cool on a wire rack for 10 minutes.
Run a knife around the edge of the pan to loosen.
Cool 1 hour longer.
Refrigerate overnight, remove sides of pan.
Sprinkle with mini chocolate chips.