Cookie Crusted Rhubarb Bars
Annacia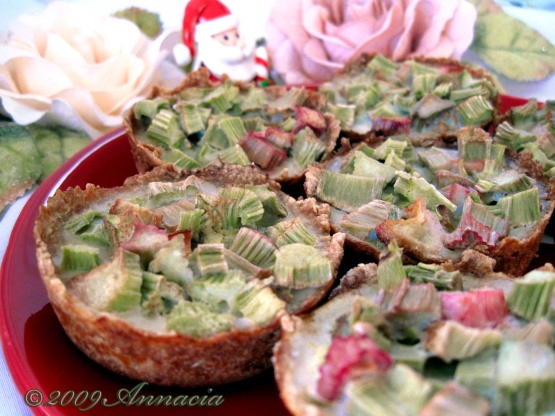 Here is a great lightened rhubarb bar with a yummy cookie crust. It goes together quickly and doesn't last long at my house!

This is one of the best rhubarb pies I've tried, it has just the right mix of sweetness and tartness, and it's so easy to make. Everyone I've served it to has loved it. It's important to have the right proportion between eggwhites and rhubarb, though, to achieve this, so always measure your rhubarb!
Preheat oven to 350 and grease an 11x7 baking pan.
Combine flours and powdered sugar; cut in butter until mixture resembles coase crumbs (mixture will seem powdery, but will come together while baking).
Press mixture to bottom on baking pan and bake for 12 minutes.
Meanwhile, gently combine sugars, flour, egg whites and vanilla. Stir in rhubarb.
Pour mixture over warm crust and bake for 35-40 minutes until wooden pick comes out clean.
Cool on wire rack, can be served warm.
Store in refrigerator.