Annacia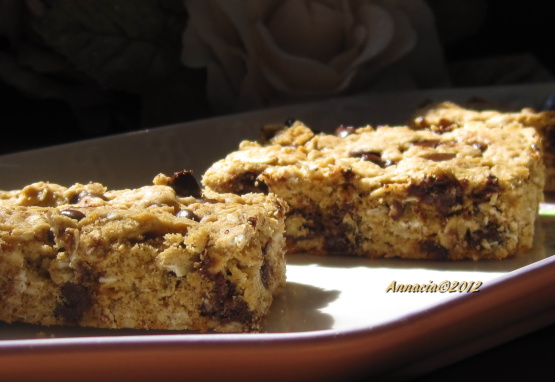 Sort of like oatmeal cookies, the peanut butter, chocolate, and toffee bits make this a delicious treat! A variation of a recipe from the Robin Hood Quick & Easy Baking Recipes 2002.

Mmmmm good. Love the peanut butter background in these. I might suggest using quick oats in his recipe as the old fashioned oats that I used made for some pretty firm bits. I like them as they are but DH likes everything softer. I have been wishing that I had a cup of mocha to go along with these yummies. They are simple to make and I had them ready for the oven in no time but I'll check them at 15 mins next time, I made a half recipe and I think that the 20 mins was a bit too long for the 8x8 pan.
Preheat oven to 350˚F.
Combine oats, flour, baking soda an salt.
Melt butter and peanut butter in microwave on high for 2 minutes.
Beat sugars, egg, vanilla, peanut butter and butter until smooth.
Gradually mix in flour and oat mixture until blended.
Stir in chocolate chips and toffee bits.
Press into 9x13" baking pan.
Bake for 20-25 minutes until golden brown.
Let cool, and cut into bars.