Rita1652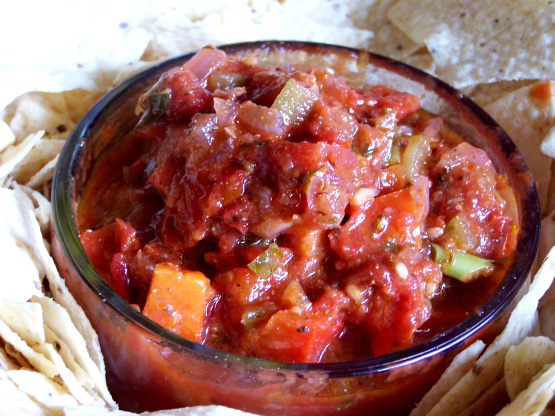 This comes from the health conscious cookbook kosher Mealleaniyumm by Norene Gillets. To tell you the truth you don't have to be Jewish or eat kosher to enjoy this recipe or any of the other recipes in her cookbook. I've been making this regularly since my mother gave me the cookbook for my birthday, and is so simple and easy to make.

Traditionally salsas are made with tomatoes, chile peppers, onion, garlic, lime juice, and fresh cilantro (coriander leaves).I found this to be more of a chunky sauce to top pasta. I never added the water and simmered for 30 minutes till thick. I did add garlic but kept to the recipe at first as I wanted to see the results. I did end up adding lime, jalapenos, and cilantro. I would have given it lower stars BUT it did taste good was great on pasta. And with the added ingredients it was good and more like a salsa!
Chop all the vegetables.
Saute the onions for five minutes on medium high. Add celery and green pepper, and saute for another three minutes.
Add the rest of the ingredients, except the water, and let it come to a boil. When and if things become dry or sticky, add the water.
Let it simmer for 25 minutes. You can enjoy it either warm or cooled down, and makes for good leftovers. Serve with couscous, noodles, or as a vegetable side dish.