Jostlori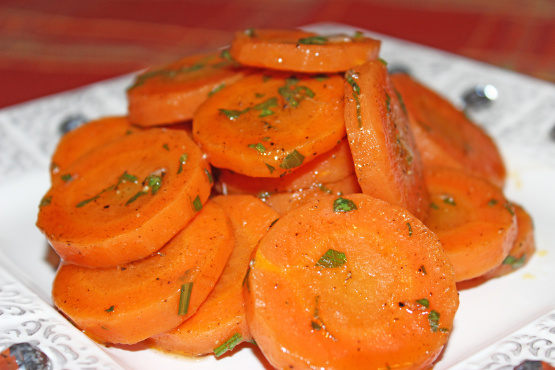 This is a Moroccan recipe published in The Africa Cookbook - Tastes of a Continent by Jessica B. Harris.

I have to update my rating on this one - I can't believe I only gave 3 stars the first time around. This time I made sure to use fresh flat leaf parsley and I had a fresh bottle of red wine vinegar - maybe that made the difference. I also measured the cumin a little bit on the scant side since the first time I felt it was a bit overpowering. Anyway - I will definitely be making this again - I think I need to double it so there are some leftovers next time.
Wash, scrape and slice carrots into 1/4 inch thick rounds.
Bring water to a boil in a heavy saucepan. Add carrots and garlic, cover, and cook about 15 minutes, or until tender (but still firm).
Drain carrots and place in serving bowl.
Mix remaining ingredients and pour over the carrots. Toss, then cover with plastic wrap and set aside for about 30 minutes before serving at room temperature.