Found this is "Secrets of Slow Cooking" and tweeked it. Great served on pasta.
2 1⁄4 ounces dried beef, cut up
4 slices lean bacon (I used black peppered bacon with excellent results)
1⁄4 cup all-purpose flour
1 (10 ounce) can cream of chicken soup
1 (4 ounce) can sliced mushrooms
1 small red onion, chopped
1⁄4 cup sour cream
hot cooked pasta, reserving some of the pasta water (I used Penne)
Directions
Spray slow cooker with nonstick cooking spray. Place dried beef in bottom of slow cooker. Wrap each piece of chicken with one bacon strip and place on top of dried beef.
Combine soup, flour and sour cream in medium bowl until smooth. Pour over chicken and sprinkle with mushroom pieces and red onion.
Cover, cook on LOW 7-9 hours or on HIGH 3-4 hours.
Serve over pasta and top off with a couple of teaspoons of pasta water.
Most Helpful
**********! Yup, that's 10 stars for this recipe. Everyone LOVED it! Did not change a thing; did not need to. Thanks for the BEST crock pot chicken recipe EVER!
Made this the other night. I used 98% fat-free cream of mushroom soup instead of the chicken soup. Since I didn't have pepper bacon I added some pepper. I have a new crockpot and it seems to cook hotter than my old and stuff seems to over cook, but in spite of that my husband informed me that everything I have done so far are keepers. Thanks for the post.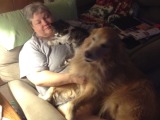 This is such a wonderful dish!!!! Thank you so much for posting. Both my picky sister and I requested this almost weekly. My mom sometimes used cream of celery or cream of mushroom soup instead of the cream of chicken. She also just topped the chicken with crumbled bacon instead of wrapping the chicken in the bacon. This is also great on top of rice.