Prep 20 mins
Cook 30 mins
My mother has made these since I was little and then I made them for my kids. They are great to take to a picnic as they carry well.
Directions
Melt the butter and add brown sugar; mix well and cool.
Add eggs, one at a time, beating well each time.
Add dry ingredients and mix well.
Add the nuts and chocolate bits.
Put in a greased 9x13 pan and bake 350 degrees for about 25-30 minutes.
Most Helpful
I was going to post this recipe, as my mom used to make them all the time for us when we were kids... They are great with pecans also, and some added coconut too!

I printed out this recipe, handed it to my lovely bride, and in no time at all, I was eating delicious CONGO BARS!!!! I had never heard of Congo Bars before this but now I'm ready to move to The Congo! What a fine recipe this is -- Brownies, move over!!!! My wife and I both loved them and I gave some to the neighbors as a dessert for their supper and they loved them as much as we did. Linda, my wife, followed the recipe as written, using the maiximum baking time and the end result was "gooey in the middle" (just right) -- perfect! And they didn't get hard when they cooled.It makes quite a few so she used the Kitchen Aide mixer and there were NO PROBLEMS. Treat yourself to this fine desert/snack, or, use this recipe for a covered dish. Once folks taste them, they'll go fast! Thank you SO MUCH and God Bless You, Mimi in Maine, for posting your fine recipe for Congo Bars. I would also mention that, (perhaps gilding the lily a bit), add a generous scoop of good vanilla ice cream to the top. My highest rating and THEN some. pat, the old bone man.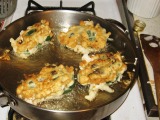 My mom made these when we were growing up. I lost her recipe and this is exactly how I remember them. Even the edges are chewy. They freeze well. This is a keeper.