KateL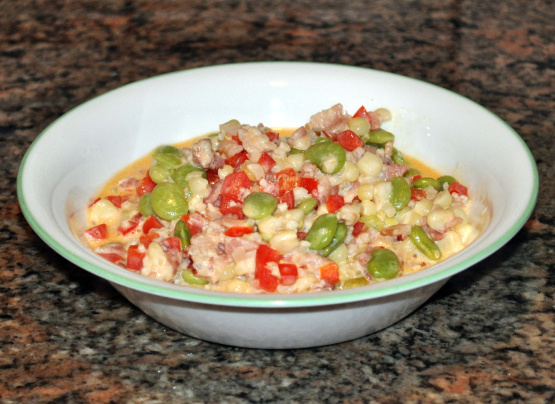 I recently took a cooking class, and this was one of the recipes we made. I've changed it up a bit to use ingredients I keep on hand most of the time. This is a quick and easy side dish, and goes well with chicken, pork or seafood.

Top Review by KateL
This is a special succotash, not your Mom's succotash. There is a complex blend of flavors, but this is a very labor-intensive side dish. I categorize it as "If I made this for you, I must love you very much!" The end result tasted sublime. Shallots vary greatly in size; mine yielded about 3/4 cup of minced product. Per Cooks Illustrated, 1 medium shallot yields 3 tablespoons of minced product. Was my dish ruined? No, but the shallot taste was quite noticeable instead of subtle. Other choices I made, to please myself: I used baby lima beans and Silver-Queen-type corn. DH, our resident succotash maven, would have preferred the largest lima beans I could have found and would have increased the proportion of them in the dish. Although the sauce was tasty, I was not wowed by it; it didn't "crown" the recipe as I expected it to, given all the special attention. It needed to thicken more, I think. Ahem, we were hungry... Made for Please Review My Recipe tag game.
Place the bacon in a cold skillet, and begin to cook over medium low heat to render the fat.
Once the bacon is cooked through, but not crispy, add the shallot, Lima beans, bell pepper, and corn.
Cook until the shallot begins to soften, about 5 minutes.
Add the garlic, and continue cooking for a few more minutes, making sure not to burn the garlic.
Add the wine, and cook until it is nearly evaporated.
Add the chicken stock, and cook until it's reduced by half.
Add the cream, and cook for a few more minutes, until it starts to thicken slightly.
Remove from the heat, add the cheese, and stir to combine.
Taste the sauce, and add salt and pepper to taste.
Serve immediately.