-Sylvie-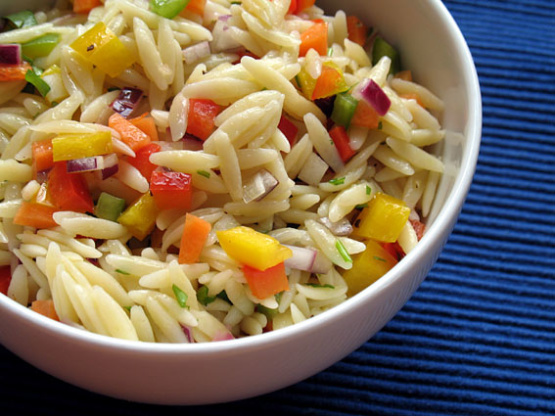 This is from my 365 Pasta Recipes cookbook, but I changed the original recipe quite a bit. Food should be attractive and this dish is really pretty and colorful. And easy to make! Cut the veggies really tiny. This is a great dish for work lunches because it is good hot or cold.

Everybody that I have made this for like this. I've made this a couple of times already with different types of pasta. One time I added in some olives and shredded chicken for protein,another time tomatoes. I always use less oil than called for, maybe 1/8 of a cup.
Cook orzo in plenty of boiling water until tender, 10-12 minutes. Drain.
Whisk oil, lemon juice, zest, salt, pepper, and garlic until blended.
Toss all of the ingredients together. Serve hot or cold.