Condiglione (Italian Tuna Salad)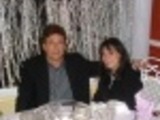 In the hot, humid summer months, I prefer to have a cool, refreshing salad for dinner. This happens to be one of my favorites.
Directions
Turn tuna out onto saucer without flaking.
Sprinkle with 1 teaspoon each oil and lemon juice and season lightly with 1/4 teaspoon each of the salt and pepper.
Let stand at room temperature to marinate.
Just before serving, combine tomato, bell peppers, cucumber, onion, garlic, and herbs in mixing bowl.
Sprinkle with remaining 1 Tablespoon each oil and lemon juice and season with remaining 1/4 teaspoon each salt and pepper.
Toss gently to combine.
Add tuna and toss once.
Make a bed of romaine leaves on serving platter and spoon salad on center.
Arrange eggs around edge and sprinkle with olives and cheese.
Reviews
Most Helpful
This salad is absolutely outstanding! Such wonderful flavor packed into a light and fresh salad. I don't care for raw onion so left it out, otherwise made as directed. Filling, healthy and flavorful - just loved this - thanks for sharing a keeper!

This made for a light and wonderful lunch for me and DH. Such fresh flavors that really compliment each other. Like another reviewer I did add more lemon for personal preference but other than that made as directed. Love the color and presentation too. We'll be making this one again. Made for Best of 2012 Game

I loved this! I added a little more lemon juice because I really liked it with the tuna and tomatoes. Very refreshing but filling salad. Would be good with a sprinkle of red vinegar I'll bet. I think I' skip the bell pepper next time I'm not very fond of it. Terrific with cheese toast fingers on the side. Thanks a bunch.