Rita1652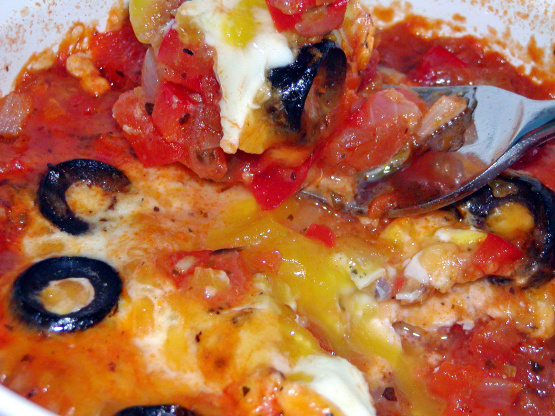 A nice breakfast or brunch dish. Serve with warm tortillas, and green chiles on the side, if desired.

Top Review by Bergy
Excellent flavor but I thought it needed a jalapeno pepper in it (personal taste).I allowed 2 eggs per serving and baked them in individual dishes so it was from the oven to the table.I like the tortillas cut up and put in the sauce and I used fresh tomatoes. Really enjoyed my brunch, Served with refied beans(recipe#10614) Thanks Miss Anne
Saute onion, green pepper and garlic in olive oil.
Stir in flour and cook for 1 minute.
Add next 7 ingredients and cook over medium heat for 5 minutes.
Pour sauce into a 9x13 baking dish.
Make 6 indentions in the sauce and break an egg into each, gently.
Sprinkle with cheese and olives.
Bake at 350 degrees F.
for 15 minutes or until eggs are set.
Serve immediately.