Company Chicken with Dried Beef
Pam-I-Am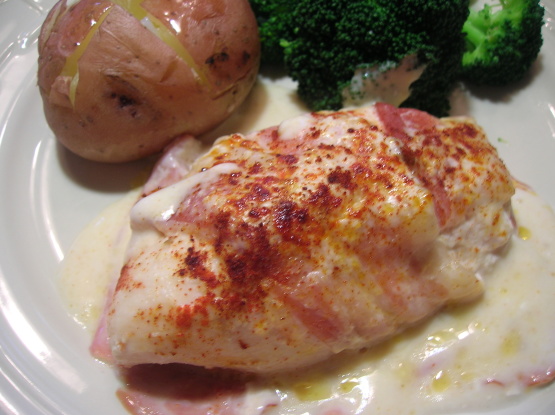 What a rich chicken dish combining the mildness of the chicken with the saltiness of the beef, surrounded in the creamy sauce of cream cheese, sour cream and cream of mushroom soup...Decadent! Serve the sauce over rice, pasta, or noodles...whatever is your fancy!

This is one of my family's long-time favorite "company" meals. We use eight chicken breast halves, rolled up, and wrapped with two pieces of bacon each. The gravy mix is one can of cream of mushroom soup, a 16-oz. carton of sour cream, and a double handful of chopped Portobello mushrooms. It goes in the oven covered at 300 d for 2 hours, then uncovered for 1 hour. I usually sprinkle some grated cheese over the top during the last 5 minutes. The long slow cooking time really fuses the flavors. I can't wait to try this with cream cheese and paprika. Thanks for sharing!
In large casserole dish, place a layer of dried beef slices, slightly overlapping each other.
Wrap a slice of bacon around each chicken breast and place on top of dried beef.
In a saucepan, heat together the cream cheese, sour cream, and undiluted mushroom soup.
Heat through until cream cheese is partially melted.
Pour sauce over chicken.
Sprinkle each breast with paprika.
Cover and bake for 2 hours at 350.
When serving, spoon soup mixture over each chicken breast and serve extra soup mixture in gravy boat or pitcher.