Parsley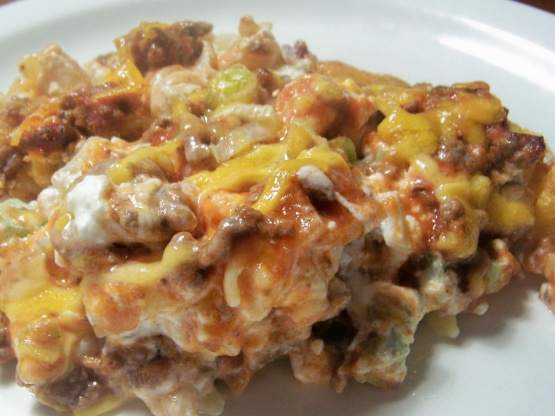 Good 1 dish meal for potlucks--very versatile--you can use your imagination and add many other ingredients to make it different. I often add mushrooms and do with bread crumbs.

I don't like hamburger, so I made it in a rectangle baking pan, and only put the hamburger on my husband's half. We both loved it. Good reheated.
Cook noodles; drain and set aside.
Brown meat; drain.
Add tomato sauce to beef; remove from heat.
In a separate bowl, mix cream cheese, cottage cheese, sour cream, onions and peppers.
Butter a casserole dish and spread 1/2 the noodles in the bottom.
Cover noodles with 1/2 the cheese mixture, then 1/2 the meat mixture, then 1 more layer of noodles, then cheese mixture and then meat mixture.
Pour 2 tablespoons butter over top; press down slightly.
Bake at 375° for 1 hour to 1 hour 15 minute.
If drier casserole is desired, cook 15 minutes longer.