Common Grill Peach, Blueberry and Blackberry Cobbler
Cook4_6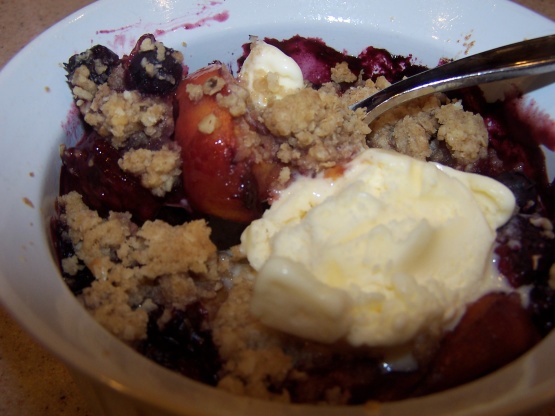 What a fabulous combination of flavors!

We really enjoyed this, even though I had to substitute a bunch cuz of food allergies. I substituted gluten free flour and a sprinkle of guar gum. Also, used ghee (clarified butter), and almonds, Xylitol and molasses. And then sprinkled with sesame seeds. But it still tasted awesome. Not gluten-free at all-probably cuz the fruit tasted so good.
Preheat oven to 350°F
Streusel Topping:
Place all ingredients in the bowl of a food processor, fitted with the metal blade, and pulsate until the butter is thoroughly combined and the mixture is the size of peas. Set aside.
In large bowl, combine all cobbler ingredients. Divide evenly among six 8 oz. ovenproof baking dishes and sprinkle with Streusel Topping.
Bake in oven for 30 minutes or until topping is golden.
Best served warm, topped with your favorite ice cream.