Commander's Shrimp & Andouille Sausage With Creole Mustard
lazyme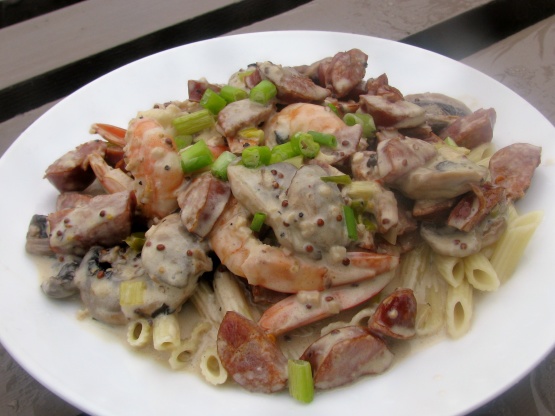 This is a recipe from Commander's Palace in New Orleans, from back when Emeril Lagasse was the chef there. The title should read "Commander's Shrimp & Andouille Sausage with Creole Mustard Sauce", but it wouldn't fit! It combines the elements of Creole and Cajun cooking together. Try to find Andouille Sausage because of it's unique taste, but if you can't find it another good quality spicy smoked pork sausage can be substituted. Serve this over angel hair pasta with a chilled light red wine.
Heat a heavy skillet and saute sausage. Drain off fat and discard.
Add shrimp, scallions, mushrooms, and garlic and saute 1 minute. Remove from the skillet and set aside.
Pour in the wine to deglaze the pan and cook until reduced by half. Add cream and reduce by one-third. Stir in mustard and Worcestershire sauce; season with salt and pepper.
Return sausage and shrimp mixture to the skillet and cook for about 2 minutes to heat well. Serve over pasta.