Comish Bread (Triple Batch)
duonyte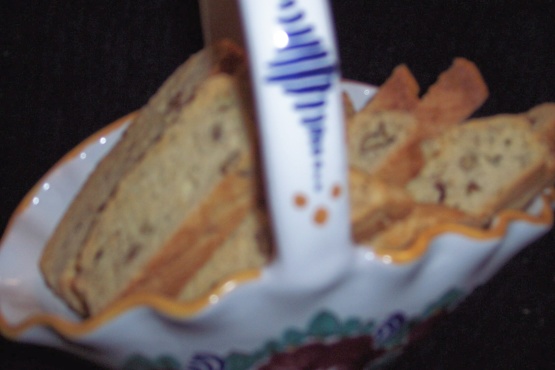 aka Jewish Biscotti or Mandelbroit. This is my great grandmother's recipe. I've never actually made it, only eaten it, so I'm totally guessing on the cook and prep times.

I made exactly half of this recipe, which resulted in 32 nice slices. I had to substitute almond extract for the vanilla, and reduced the sugar to 1 1/2 cups for half the recipe - sweet enough, could go lower. I mixed the wet ingredients together before mixing with the dry. This made three "loaves". I wet my hands with cold water to smooth the loaves and make the exterior nicer. Mine baked quite a bit longer, almost 45 minutes, to get to the set stage. Slicing is easiest with a serrated knife. These were very tasty, and I doubt they'll stay around long. I think next time I will increase the amount of baking powder - this seemed a bit low for this amount of flour. Also, I think dried cherries would also be a nice addition.
Mix all dry ingredients.
Add chopped nuts.
Add melted butter, eggs, vanilla. Mix thoroughly with a large spoon, even kneading by hand as necessary.
Roll into small loaves and place on oiled cookie sheets in a 350F oven. Bake for 20 to 25 minutes, until set or lightly brown on bottom of loaves.
Remove from cookie sheets and slice to desired thickness immediately.
Sprinkle with cinnamon sugar if desired.
Place on cookie sheets again and bake in a 300F oven until brown and dry.