Comforting Pasta Salad (Gluten-Free)
Nif_H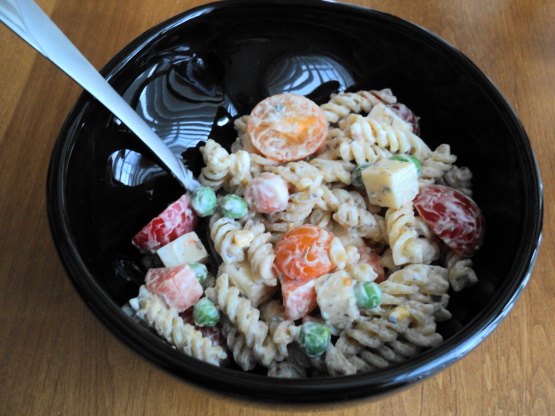 Yesterday my sis and me really craved some pasta salad, so we came up with this little something. It features veggies, cheese, an egg, sour cream and mediterranian spices. We really enjoyed it a lot and hope that you will, too! If you are looking for something more healthy, feel free to use fat reduced sour cream or low fat-yoghurt, fat-reduced cheese and more veggies.

Top Review by Nif_H
Another clear hit for Lalaloula (and her sister)! I used high fibre white pasta and everything else as listed. I even picked the peas out of a frozen mixed veggie bag to follow the instructions, since your recipes are always so terrific! This was so good and my son and I had this for lunch 2 days in a row. I will enjoy this again for sure. Made for PRMR. Thanks Lalaloula! :D
Boil pasta according to package directions. Strain and add to a big bowl.
Add veggies, egg and cheese. Toss.
Pour over sour cream and sprinkle spices and herbs on top. Toss to coat.
Enjoy!