Comforting Cold and Flu Tea
awalde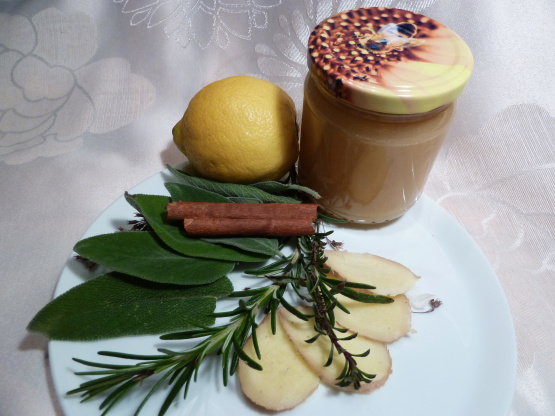 Easy to make and inexpensive (you might even have all the ingredients on hand), this homemade tea is packed with ingredients that have natural antibiotic and immune-boosting properties. Adapted from Alex Jamieson's book The Great American Detox Diet.

This is better than my favorite herb tea made from a tea bag and much cheaper. No colds or flu in my house, but it is swirling all around. I am on my second cup this morning, looking out the window at the dreary wet weather--but I feel all warm and comfy. Thanks so much for posting.
Place all ingredients (except honey) in a large pot. Bring to a boil. Turn off heat and steep for about 10 minutes.
Strain into a pitcher (I like to leave the cinnamon sticks in the pitcher for extra flavor). Stir in honey while still warm.
Store pitcher in refrigerator. Reheat one cup at a time in the microwave, adding more honey to taste, if desired. Drink twice a day, breathing steam through nose, for maximum benefit.