Comfort, Tx. Creamed Cabbage
Parsley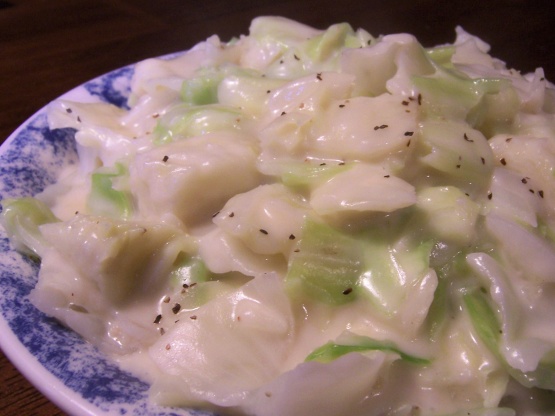 I've made this cabbage several times and it was so delicious. The recipe came from an article on the restaurant in Comfort, Tx. and this was one of their specialty dishes. The article was in "County Woman" I believe, it was years ago I cut it out.
Cut cabbage in 1/4 in thickness.
Put in saucepan. Slice and add onion.
Sprinkle in salt and a little sugar.
Add enough water to cover and bring to a boil; turn off heat and let stand on a burner (cabbage will continue to cook in the hot liquid).
Melt the butter in a separate pan and combine with the flour and a small amount of cabbage liquid.
Spoon the cabbage into the mixture; add a sprinkle of white pepper along with a little more sugar and salt.
Stir in evaporated milk and serve.