Columbia Bar & Grill's Grain & Cheeseburgers
ladypit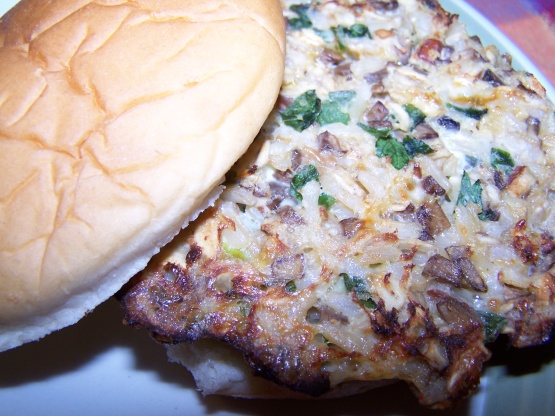 I love Money's Gardenburgers and the ingredients in this are similar. But Money's has only 100 calories per patty and 3 grams of fat. These are way way higher. I am going to make these anyway but omit the butter and some of the cheese, and perhaps one of the eggs. I don't see why you would need 2 eggs to hold these together.
In a 10-12 inch nonstick frying pan over medium heat, cook mushrooms and green onions in butter, stirring often, until vegetables are limp; about 6 minutes.
Add oats and stir for 2 minutes.
Remove from heat, let cool slightly, then stir in cooked rice, mozzarella, cheddar, walnuts, cottage cheese, eggs and parsley.
Add salt and pepper to taste.
On an oiled 12 by 15 inch baking sheet, shape into 4 patties, each 1/2 inch thick.
Broil 3 inches from heat until deep golden, turning once, 6 to 7 minutes total.