Colourful Chicken Stir-Fry
Bergy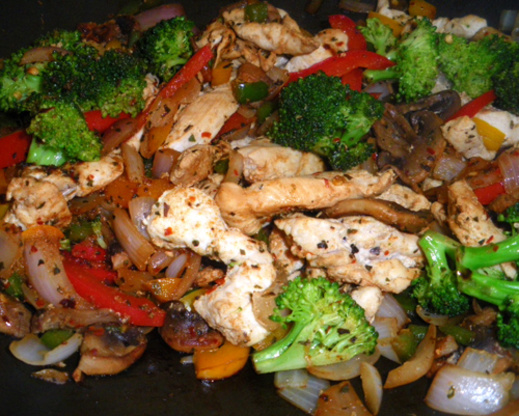 This recipe is light and refreshing, for when you are not in the mood for a heavy meal.

Top Review by Bergy
Very tasty recipe that was enjoyed by both of us - I cut the recipe in half -worked just fine. I did cook it in a slightly different manner. We like our veggies still crunchy so - I set my wok on 10 (15 is top heat) Lightly sprayed it with "No Oil" and stir fried the onions(i added a couple of mushrooms) for apprx 8 minutes, added the chicken, gave another light spray of no oil, stir fried for apprx 6 minutes. Added the remaining peppers, broccoli & the spices. I thought it needed a wee bit of steam so I added 4 tbsp of Vermouth. put on the lid and cooked for 8 minutes. Total time 22 minutes. Seved with noodles. Thanks for a very enjoyable recipe
In a frying pan, add the vegetable oil and put the heat on low.
Slice chicken breasts into strips.
Add to pan.
Chop up all of your peppers, broccoli and onion and add to pan.
Take all of your spices and add to the mix.
Boil rice.
Simmer the vegetables and chicken on low heat for 45 minutes or until rice is cooked, stirring occasionally, making sure it's not burning.
Pour the vegetables and chicken over rice and enjoy!