Marlitt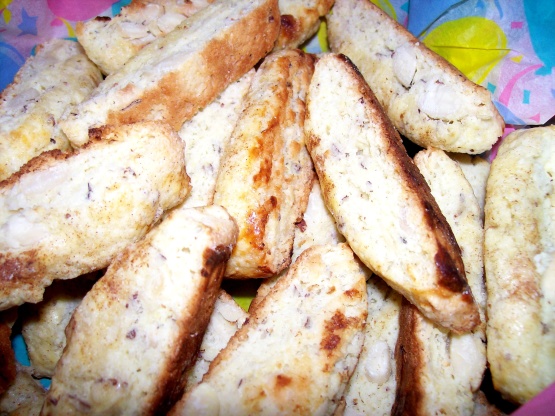 These are a variety of the italian cantuccini, a twice baked cookie, usually containing almonds.

These are delicious. I had store bought at my friends house and really enjoyed them. They are a bit pricy at the stores so I checked the zaar for a recipe. I found this it turn out great taste even better then store bought. I didn't put the candied cherries in but followed the rest. I'll be making these often. Thanks
Mix all ingredients up to the cherries.
Divide into three parts and form each into a roll of about 2,5 cm.
Place on a baking tray, leaving about 3cm between each roll.
Mix eggyolk with milk and brush on top of the rolls.
bake at 180c for about 20 minutes.
take rolls out of the oven and leave to cool.
cut into 0.
5cm slices and put those on a baking tray.
Bake for another 5-7 minutes.