VickyJ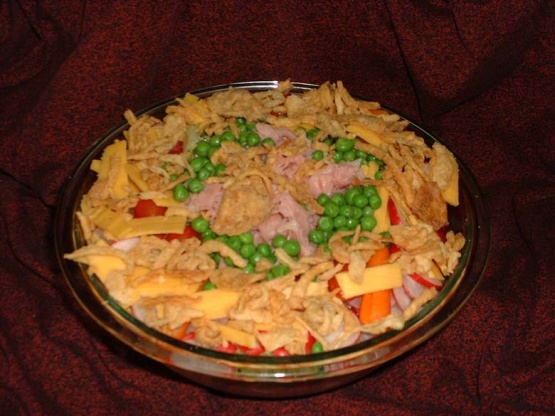 I made this for Thanksgiving yesterday, and it turned out beautiful. So many different flavors. I tweaked the recipe a bit to my own taste. I added sliced cheddar, shredded mozzarella cheese and carrots and left out the peppers and eggs. The dressing looks wonderful, though we just used bottled Italian. You can put your own spin on it. Either way, it will be good. I will post the recipe how I found it.

I've tried many layered salads & I enjoyed the combination here. French fried onions are a guilty please so I thought they added a pleasing crunch. I used a cured ham & diced it and yellow sunburst tomatoes cut in half. The dressing was too tangy for one diner. I think next time I would go with either homemade ranch or a honey mustard dressing. Thank you for sharing the recipe.
salad

4

cups washed and torn salad greens

8

ounces boiled ham, diced

2

ripe tomatoes, chopped

1

bell pepper, seeded and chopped (green, red, or yellow)

1

bunch radish, sliced

1

(9 ounce) package frozen peas, thawed

1

(2 7/8 ounce) can French-fried onions

Dijon Dressing

1

cup mayonnaise

1

cup buttermilk
1⁄4 cup Dijon mustard

1

(1 ounce) package ranch dressing mix
1⁄2 teaspoon dried dill weed
Layer salad ingredients in 3-quart glass bowl. Combine Dijon dressing ingredients in small bowl; mix well. Spoon onto salad just before serving (or use your favorite bottled dressing). Garnish as desired.