Colorful Black Bean and Crab Salad
Parsley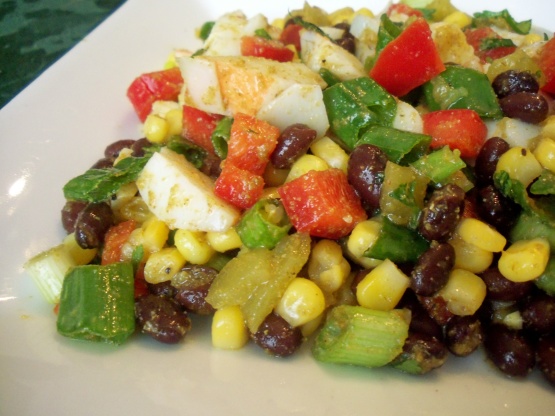 This is a very colourful side dish that I serve with jerk chicken or barbecued steaks. I quite often will take this to a pot luck along with several copies of the recipe, as it is always requested. For more of a bite, add a finely chopped jalapeno directly to the salad in addition to the sliced jalapenos on top.

Excellent salad, JCMM. I served this along with grilled steak and grilled potatoes. The dressing was very impressive and had incredible flavor. Made a very colorful and zesty side dish. Thanks for sharing your recipe.
Mix together corn, black beans, red pepper, chilies, cilantro, green onions and seafood.
Add cumin and pepper to minced or crushed garlic.
Mix into a paste.
Add vinegar, lime juice and water to garlic mixture.
Mix well.
Whisk in olive oil.
Pour dressing over corn, bean mixture and stir well.
Top with thinly sliced jalapeno peppers.