Colored Striped Icebox Cookies
Parsley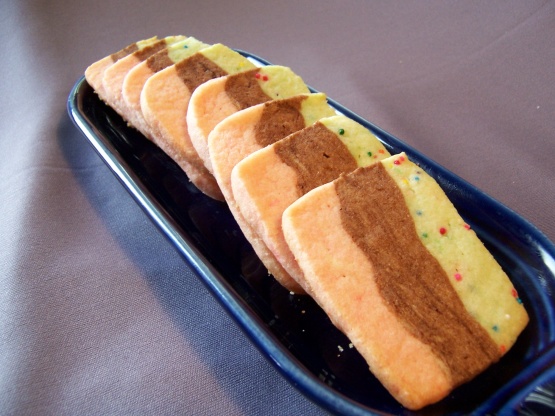 I get creative with this recipe and make the colors of the stripes according to the season/holiday. The recipe colors as written are "Christmasy". Prep time does NOT include time for dough to chill.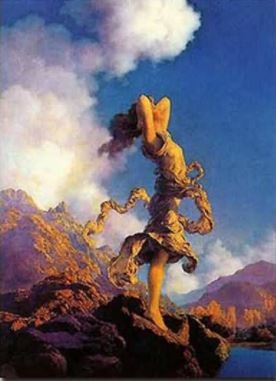 Haven't actually BAKED these yet but I know they're gonna be beautiful and the dough tastes good! I'm rating now b/c I want to get down the stuff I did so I won't forget. :) Followed the instruction to the letter. Used 4 mini candy canes (easy to crush with a rolling pin in their individual packages) and 4 drops of food coloring to get the perfect pink-red that I wanted. I used 3 drops of green in the top part of the dough... which really makes the nonpareils stand out. I ended up kneading the melted chocolate into the dough (on waxed paper) b/c it was stiff. I spread the chocolate on the dough, folded one side over, pressed, and kept repeating until the chocolate was fully incorporated into the dough. I used a mixer w/ the red and green portions. I pressed each color dough out into aan appx 9x5" rectangle before putting into the paper lined loaf pan, which made it much easier to press into exact shape. I lined the pan using a trick my mother taught me about tracing the bottom of a pan onto the waxed paper using the back side of a knife. I then cut wedges out of the corners and the waxed paper fit perfectly with no wrinkles! The dough is now in the frig chilling and I will bake later today. Will return to post "taste/texture" comments. Thanks for sharing this recipe. I know we're going to enjoy the cookies! EDITED TO ADD: The cookies are baked and cooling and the only "problem" with them is staying out of them! The cookies are tender and have the most delicate blend of flavors; not too much of one... Yummmmm! These cookies are now on my permanent "have to make for Christmas" list! Thanks so much for posting this recipe, Parsley! It's fabulous!
1

cup unsalted butter, softened (NO SUBSTITUTIONS)
1 1⁄2 cups sugar

1

large egg
2 1⁄2 cups flour
1 1⁄2 teaspoons baking powder
1⁄4 teaspoon salt

2

tablespoons finely crushed peppermint candies

1 -2

drop red food coloring

1

ounce semisweet chocolate, melted (1 square)

1

tablespoon multicolored sugar nonpareils (multicolored)

1 -2

drop green food coloring
Line a 9x5x3-inch loaf pan with wax paper or parchment paper (try to get most wrinkles out); set aside.
Cream together butter and sugar in a large mixing bowl; beat in egg.
In a separate bowl, combine flour, baking powder, and salt; gradually beat this into creamed mixture.
Divide the dough into thirds; each in it's own small bowl.
Add crushed mints and red food color to 1 third; mix well (may need to use hands to blend color well).
Add melted chocolate to another third; mix well (may need to use hands).
Add nonpareils and green food color to last third; mix well (may need to use hands).
Spread red dough on bottom of lined loaf pan. Spread chocolate dough on top of that. Lastly, spread the green dough on top. Cover with plastic wrap and chill for at least 2 hours (or place in freezer for 1 hour).
When chilled and firm, remove dough from pan.
Preheat oven to 375°F.
Lay the loaf of dough flat on a cutting board (just the way it was in the loaf pan) and use a large knife to cut dough down the middle lengthwise. Now cut each strip into 1/4" - 1/2" slices across (so each is "striped).
Place slices 1" apart on lightly greased baking sheets. Bake at 375°F for 10-12 minutes or until edges just begin to brown.