NELady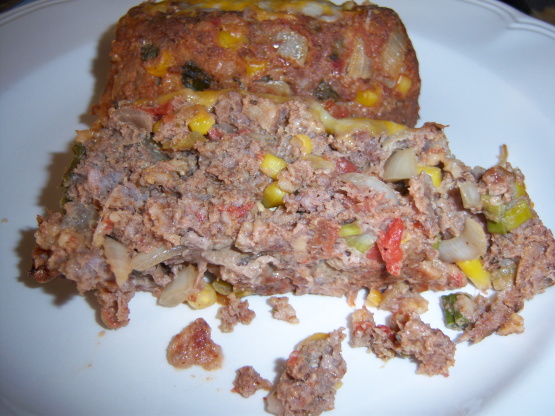 This recipe is from the Junior League of Denver Colorado - a wonderful spiced-up meatloaf!

Top Review by NELady
I really, really wanted to love this recipe - I love everything that goes into it. It smelled divine cooking, too... but I don't know what happened. I followed the recipe EXACTLY as written - no variations at all. I divided the meat mixture into two loaf pans initially - after cooking for about half and hour, I checked on the meatloaves and they were SOOOO greasy (from the sausage? I used 90/10 lean ground beef and regular pork sausage) that I flipped them out onto my broiler pan (with the slots for the grease to drip through) so they could develop a nice crust (my favorite part of meatloaf). I let them rest for about 10 minutes before I sliced the meatloaf, and it kind of just fell apart. It didn't have the loafy-ness that I associate with meatloaf, and I have no idea why. It kind of crumbled. The flavor was okay - I enjoyed the corn and the tomatoes in it. I encourage others to give this recipe a shot because it SHOULD BE GOOD - I just didn't like it very well. Made for Photo Tag.
Peel and dice the onion. Remove core and seeds from red pepper and jalapenos and dice. Thinly slice the green onion.
In a large skillet heat the olive oil. Add diced onion, red pepper, jalapenos, garlic, chili powder, salt, oregano, and cumin and saute 1 minute. Drain crushed tomatoes and add to skillet. Cover, reduce heat to low and cook about 10 minutes. Remove from heat and cool to room temperature.
In a large bowl, combine beef and sausage. Add tomato mixture, bread crumbs, eggs, corn, and green onions and mix well.
Press meat mixture into 2 9x5 inch loaf pans.
Bake at 350 degrees for 50 minutes.
Remove from oven and pour off any pan juices. Top evenly with cheddar cheese and return to the oven for about 4 minutes, until cheese melts.