Axe1678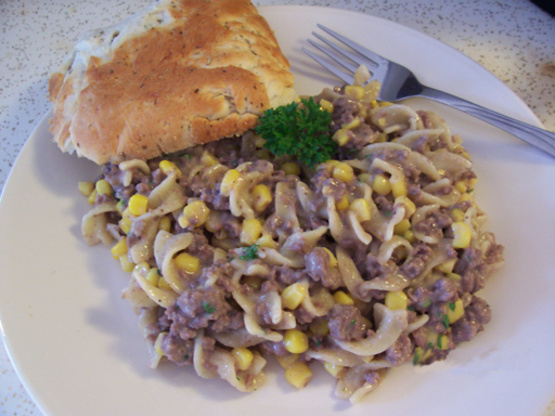 I like this recipe because my family always enjoyed this growing up. It is very easy and inexpensive.
I am not giving a star rating because I used this and the reviews for inspiration rather than an actual recipe. This is what I ended up doing. Measurements are approximate since I didn't actually measure.<br/><br/>Heat 2 tsp. Oil in a large pan over medium high heat. Add 5 cloves chopped garlic (about 2 TBS.). Stir until fragrant. Add two small onions, 1-1/2 c., medium dice, and cook until translucent. Stir in 1can each of cream of mushroom soup, creamed corn a w whole corn, undrained, and milk, 1/2 bag whole wheat rotini, 1/2 tsp. Rosemary, 14 tsp. Thyme, 1/2 tsp. Sage, and 1/4 tsp. Turmeric and enough water to cover pasta. Cover and bring to a boil, reduce heat and simmer about 20 minutes, stirring occasionally, until pasta is tender. Remove lid and cook until desired consistency.<br/><br/>Next time, I will use mower onion to make it less starchy.
Brown hamburger in skillet on medium heat.
While browning meat, boil noodles.
When done drain corn, and mix all ingredients together.
Serve with garlic bread.
This is quick and easy, and fits your college budget.
Enjoy!