Colleen's Insane Chocolate Chip Cookies
i took the basic recipe from the Silver Palate cook book, but jazzed it up alot...you can make it without the jazz but then they aren't insane....and what is fun about being sane?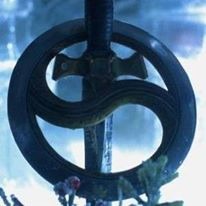 We have just finished pigging out on these cookies and they were fantastic! The only change I made was to sub walnuts since I was out of pecans. I really loved the addition of the coconut - very yummy! Thanks for sharing this recipe.
preheat oven to 350, grease or cover cookie sheet with parchment.
cream together butter, sugars until light and fluffy.
add eggs and vanilla, beat well.
in a seperate bowl combine flour baking soda and salt.
combine dry ingredients with the butter sugar mixture, and mix well.
add chocolate chips and"insanity" coconut and pecans.
drop by 1 1/2 T onto prepared cookie sheet approximately 2 inches apart, (these cookies have a decent amount of spread).
bake for 8-10 minutes or until the centers just begin to set.
cool on the sheet for 5 minutes and then transfer to a rack to cool completely-- i doubt you'll have many cooled completely--.