Collard Greens With Tomatoes and Garlic
Rita1652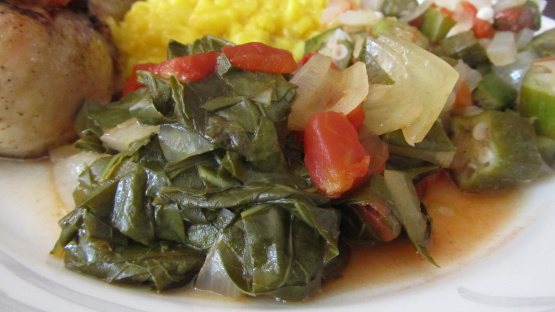 This is a dish popular in the southern US states and originally comes from Africa.

We have vegetarians in our family and it's hard to find a good collard greens recipe that doesn't have bacon in it. Well, I think we finally found one! I used minced garlic because it's what I had on hand and I doubled it because we love garlic. I also threw a little extra onion in. DD didn't like them at all but DH and I both enjoyed them.
1⁄4 cup extra virgin olive oil

6

large garlic cloves, thinly sliced

1

medium onion, cut into 1/2-inch dice

1

jalapeno pepper, halved lengthwise

4

medium tomatoes, chopped

2

lbs collard greens, stems and leaves finely shredded

2

sprigs thyme
kosher salt & freshly ground black pepper
In a large saucepan, heat the olive oil over medium high heat; add the garlic, onions, and jalapeno and cook, stirring occasionally, until softened, about 3 minutes.
Stir in the tomatoes, collard greens, bay leaves, and thyme; cover, reduce heat to medium low, and cook, stirring occasionally, until collards are tender, about 20 minutes.
Remove the bay leaves, thyme sprigs, and jalapeno and discard; season with salt and pepper.
This dish can be prepared a day in advance and reheated.