Collard Greens - It's Good for You!
Swirling F.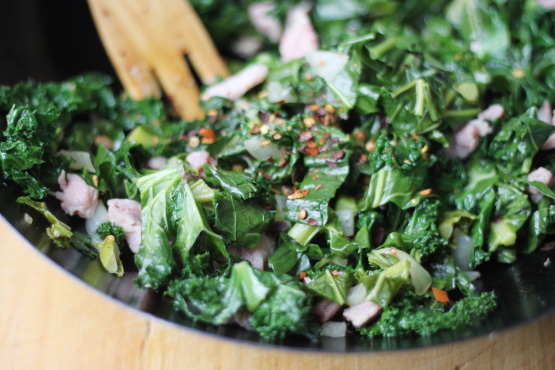 Collards are among the oldest members of the cabbage family! Vegetarians can skip the bacon and use smoke flavoring and use a veggie broth in place of the chicken broth. I find this is one green that you do have to cook a while. The flavor is between cabbage and kale. They are low in calories. A rich source of fiber, vitamin C and calcium, and protects you against cancer.

I did not use this recipe for my collards, but mine mirrored this recipe except for the sugar although I did not measure anything. It was just what I threw together and they are so very good this way. Melt in your mouth tender, and packed full of flavor.
In a deep pot brown bacon add onion and garlic and optional sugar to fried bacon.
Add collards layering with spices to fried bacon add broth and cover pot and cook until tender over medium heat for about 30 minutes.
Taste and adjust seasonings.