Collard Greens a la Carol
Bergy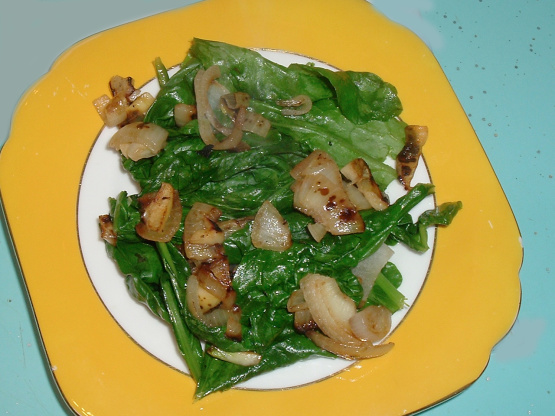 I can eat all of these in a single sitting when I'm really craving collards!

This recipe sounded like a great idea. I tried steaming the collard greens over the stovetop for nearly 2 hours and could not get them cooked enough to taste good. Maybe I did not do something right? I am sticking to boiling collard greens from now on.
2

bunches collard greens

4 -6

cloves garlic, chopped
pepper (optional)
Fill large bowl with cold tap water.
Soak collard greens in water, take out, and then rinse.
Do this several times until no dirt is at bottom of bowl after washing.
Rip thick stem from center of greens (its OK if a little thin stem is left).
I usually accomplish this by folding green in half with stem sticking straight up, and ripping down and towards me.
Chop onions and fry over medium heat in a deep frying pan for a few minutes.
In the meantime, chop or tear collard greens into pieces and its okay.
if they're big pieces, as they will shrink.
Add greens to onions, and then add chopped garlic (as desired) and salt (and pepper if desired) on top of them.
Cover and reduce heat to low.
Let steam a few minutes.
Check frequently and stir.
The key to good collard greens is to not undercook them!!!
Stir frequently and cover between stirrings.