Kathy228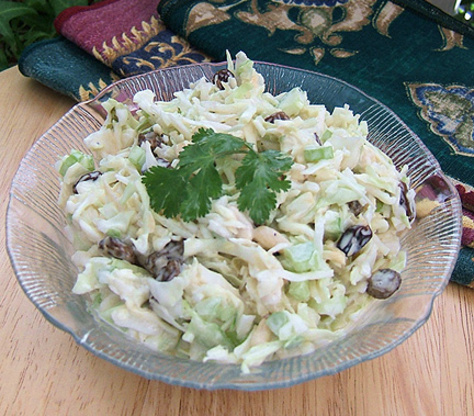 Scrumptious. Slightly sweet. A bit different from traditional coleslaw. I like the "angel hair" coleslaw cabbage, but the mixture with carrots and red cabbage is great too. Try it with dried cranberries instead of raisins. Inspired from a recipe received from a friend.

Good coleslaw with an added sweet taste from the raisins. I used sunflower seeds instead of pine nuts. I couldn't find unsalted sunflower seeds , so I used the salted and reduced the amount of salt called for in the recipe. Nice combination of flavors.
Open the bag of coleslaw cabbage into a large mixing bowl.
Add raisins, onions and nuts. Combine gently.
In a small bowl, whisk together the remaining (dressing) ingredients until very well blended.
Pour the dressing over the cabbage mixture and gently combine until evenly blended.
Refrigerate for a minimum of 2-hours.
Garnish with a sprig of cilantro or parsley leaf (optional).