Bev I Am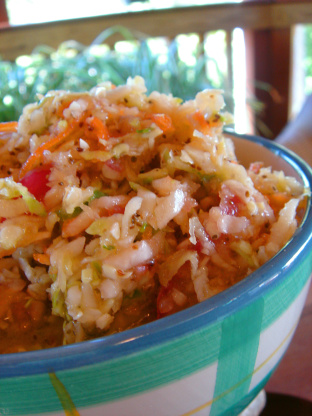 This is a coleslaw to die for. It is both sweet and tangy. The best part is that you can keep it in the refrigerator for 14 days! I'm posting here for safe-keeping...too good to get lost!!!

Love this salad! I use splenda with no problems.I like to keep this on hand ; when I want a little something I grab this instead of the chips.
Mix together salad ingredients. Sprinkle with sugar and let stand while making the dressing.
Bring dressing ingredients (except oil), to a boil. Add oil and boil for 30 seconds. Pour over cabbage mixture while still hot. Stir well and refrigerate. Keeps for 14 days.