Rita1652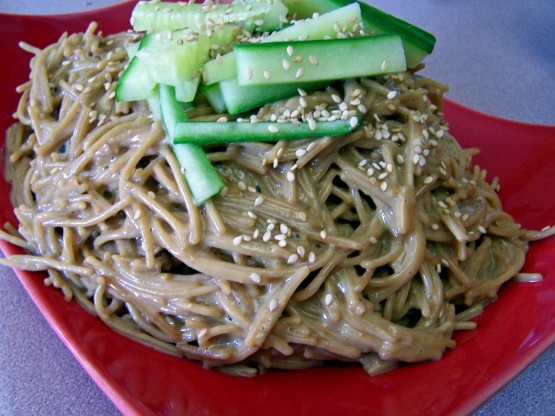 Better then takout. Nice summer dish. Great for picnics.

This recipe was way too salty for me so I made a lot of changes. I used 2 tbsp light soy sauce, 1.5 tbsp rice vinegar, 2.5 tbsp brown sugar, 3 tbsp crunchy peanut butter, 1 tsp sesame oil, 1/4 cup chicken broth, 1/4 tsp chili powder and 1/4 tsp ginger powder (sub for pepper flakes and ginger roots). This amount of sauce is good for 8 oz linguine. The sauce is on the sweet side.
In saucepan over medium heat, mix first 8 ingredients together (soy sauce to chicken broth), stir until thick and smooth.
Cook linguine in salted water until al dente. Drain and rinse with cool water.
Mix linguine and sauce mixture in bowl.
Serve cold or at room temperature with scallions, cucumbers, and sesame seeds as garnish.