Cold Rice Mozzarella Ham Salad
Parsley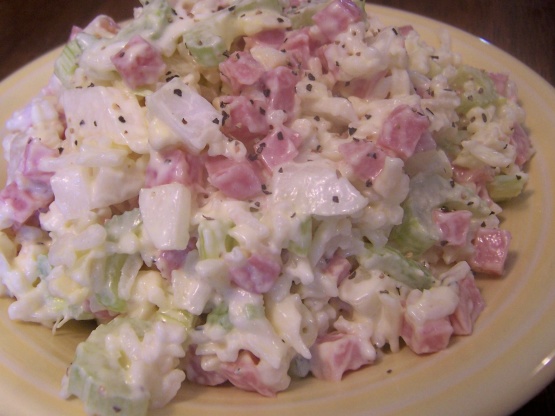 One of my favorites, and also my own creation, great to serve at get togethers. Make certain to use only Uncle Ben's converted rice for this. You can add in other veggies along with radishes and celery if desired. I serve this at my BBQ get togethers, everyone loves this, and it is a nice change from potato salad. Prep time does not include boiling rice, but does include chilling time You can substitute salami for the ham. Instead of shredded mozza cheese you can cube it.
Prepare the rice in water with a teaspoon of salt until cooked, then cool completely.
In a large mixing bowl, mix the cooled rice with onions, radishes, celery, mozzarella cheese and ham.
In a small bowl combine the mayo, mustard, salt and pepper.
Add the mayo mixture to the rice; mix well to combine (adjust all ingredients to taste, if you prefer a creamier salad add in more mayo).
Cover and chill for a minimum of 2 hours before serving.