Cold Lemony Greens from Greece
Debbwl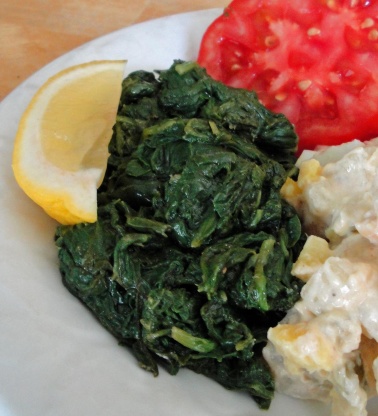 Well, from Greece and throughout the Eastern Mediterranean accoding to Bittman's, "The Best Recipes in the World."

Top Review by Debbwl
We really enjoy the clean fresh flavor of this simple side. The secret to enjoying this simple side is high quality olive and nice ripe Meyer lemons and for goodness sake do not overcook the spinach I only let mine go about 2.5 minutes as mine was nice and young and tender. Thanks for the post.
Remove any thick stems from your greens (like those found in collards, for example).
Bring a large pot of water to boil. Salt it. (You can also steam greens over an inch or so of boiling water.) Cook greens until tender. It's about 3 minutes for spinach and something like 15 minutes for collards. (According to the book -- those things are so tough, I'd have to see that to believe it. If you aren't an experienced collards cooker, I'd stick with the easier spinach.)
Drain well. Wrap in plastic or place in a covered bowl and chill. They can stay in the fridge up to 2 days. If you want to use them right away, plung them into ice water or put them under running cold water.
When ready to serve, squeeze excess moisture from greens, then chop coarsely. Toss with olive, oil, lemon juice, salt and pepper. Serve immediately with lemon wedges.