Cold Fruited Chicken Salad
Derf2440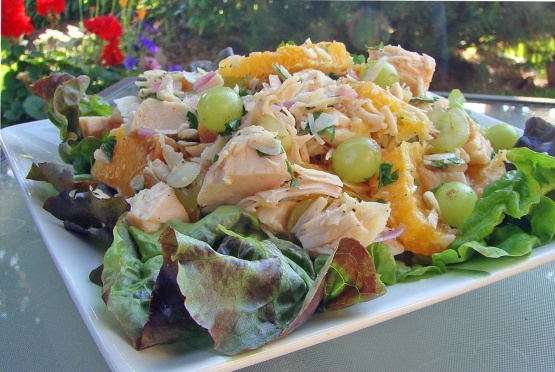 Apricots, oranges, grapes and red onions adorn this healthy and delicious low calorie summer lunch.

We had this for dinner lastnight and it was a big hit. It was very easy to make. I adapted it alittle by adding diced apples, dried cranberries and I squeezed an orange over it before chilling. We used this as a topping over a mixed blend salad. It was wonderful!!
Combine quartered apricot halves, chopped onion, white wine, orange juice, and red wine vinegar in a saucepan, and bring to a boil.
Set aside to cool.
Combine apricot mixture with chicken, orange, grapes, almonds, parsley, pepper, salt, and crushed red pepper in a large bowl; cover and chill 1-2 hours.
Spoon chicken mixture onto a lettuce lined platter to serve.