Cold Eggplant With Spicy Asian Peanut Dressing
flower7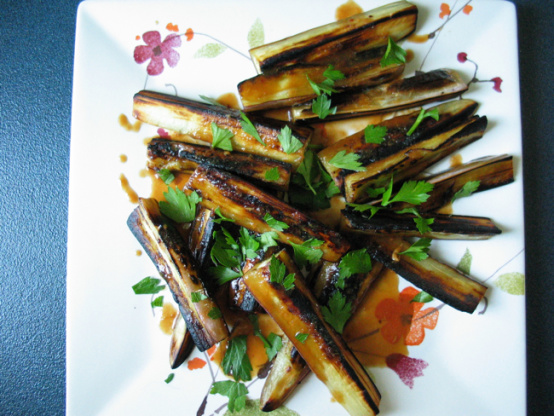 Don't know what to do with those beautiful, skinny Japanese eggplants? Try this. It's easy, healthy, and even better the next day. Slim Japanese eggplants are steamed and marinated in a spicy peanut dressing. Comes from World Vegetarian by Madhur Jaffrey. Can also be made with regular eggplants cut the same way.

This was fantastic! I used sherry and less than half the salt. Also parsley instead of cilantro. The major change I made was instead of steaming the eggplant (I don't have any way to do that), I tossed the spears of eggplant with a Tbsp or two of olive oil and cooked it in a skillet until browned and cooked through. I think I will always cook it in this manner as the crispiness really added something extra. Thanks for sharing!
Quarter the eggplants and cut them crosswise into 3-inch sections.
Steam over high heat until tender, 10-15 minutes, using a bamboo steamer or steamer basket.
Meanwhile, combine all other ingredients for the sauce, except the cilantro, and mix well.
When eggplants are tender, gently mix into the sauce in a serving dish. Sprinkle with the cilantro. Serve at room temperature or chilled.