twissis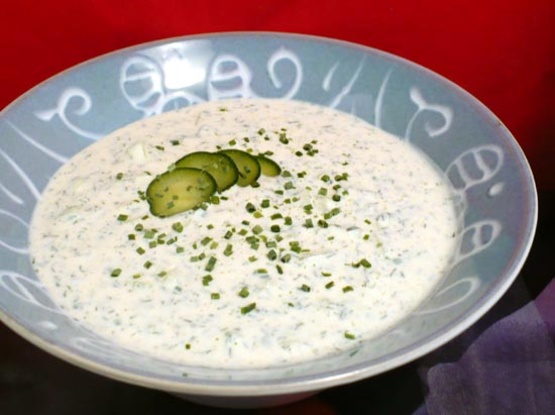 Soothing and delicious--with bits of cucumber. Better the second day than the first, if it lasts that long.

Your recipe is the same as one a neighbour gave me almost 30 years ago. She was from a German Mennonite background and I treasure every recipe she shared. This is the easiest soup I've ever made. If the ingredients are all cold, the soup is delicious right away on a hot day, but yes, better if allowed to mingle together for several hours. Another optional ingredient my dear friend sometimes added was cooked, shredded beets which gave the soup a lovely pink colour and additional flavour. (Now I just used canned beets.) Either way, this is a real keeper.
Mix ingredients.
Chill overnight, or at least 3-4 hours.
YUM!
This also works well in smaller servings as a counterpoint to spicy foods (like raita).