JustJanS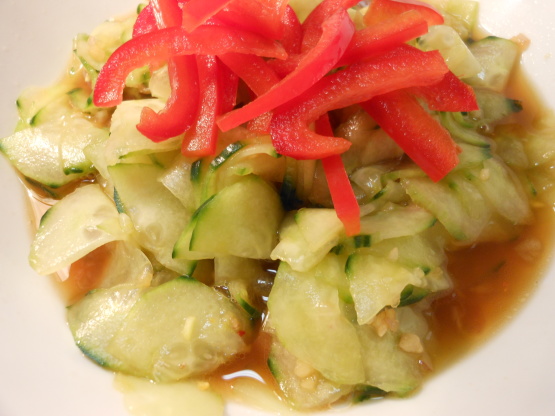 This is it! And it's so easy! This is based on a recipe from Ken Hom's book, Quick & Easy Chinese Cooking. This salad transcends "Asian" -- we double it and serve this at any summer time BBQ and also bring it to potlucks. This is always a hit. Best of all, my picky DH loves it! In Ken Hom's own words, "Here is a really quick and easy recipe in which you salt the cucumbers and sweat the moisture from them for 15 minutes. They acquire a cooked texture without cooking and make a charming first course. They can also serve as a picnic dish or as part of a summer salad."

We enjoyed this though I didn't have light & dark soy, so I used 2t organic tamari. I didn't really care for the toasted sesame oil flavor, but DH loved it, so next time I may half it with olive oil. I love fresh cucumber salads and this one when really well with grilled burgers and roasted broccoloi. Made for "Smokin' Hot' tag game in the Diabetic Forum.
1

lb cucumber

2

teaspoons salt

Sauce

1

tablespoon finely chopped shallot

2

teaspoons finely chopped garlic

1

teaspoon light soy sauce

1

teaspoon dark soy sauce

2

tablespoons Chinese white rice vinegar

2

teaspoons sugar

1

small fresh red chile, finely chopped

1

tablespoon toasted sesame oil
1⁄4 cup sweet red pepper, cut in strips and blanched (optional)
Peel cucumbers and slice in half lengthwise.
Using a teaspoon, carve out the bitter seeds and discard.
Cut the cucumbers into 3x1/2-inch slices. Place cucumber slices in a colander and sprinkle salt over them. Stir the cucumber slices in order to distribute the salt as evenly as possible. Allow to drain for 15 minutes while you make the sauce.
Whisk sauce ingredients together in small bowl.
Rinse the cucumber slices, drain, pat dry with paper towels, then mix with the sauce and allow to marinate 10 minutes.
Garnish with red pepper strips, if using.