3 Reviews
As written, this makes much too weak a glass of iced coffee. I use 1 cup of coffee and 4 cups of water to make the concentrate, but then I only add 2 cups of water after filtering. I then doctor it up with sweetener and dairy to personal specifications (for myself, I use Equal and half-and-half; if you prefer sugar, you might want to use simple syrup, or else mix your sugar with a couple of tablespoons of the coffee then zap it in the microwave until the sugar dissolves - there won't be enough hot liquid to warm up the drink noticeably when you fill the glass). To avoid diluting the drink, you might want to make some ice cubes from the same recipe. You can also make the concentrate in the refrigerator; allow 24 hours instead of 12.

Thank you for a great simple recipe to use for iced coffee drinks. I did not add the optional condensed milk as I was using it to make a frappucino recipe. Made for Spring 2008 PAC.
Thank you, Thank you, Thank you (I could go on and on...)Tastes great although I didn't use the condensed milk. I add low fat Coffee Mate and Splenda with each serving. I have to admit I was a little scared of the 1 cup of ground coffee, I thought it would be way too strong, but I went ahead and used it. After the filtering and adding the rest of the water it was fine. I will enjoy this recipe every time I have the time to make it.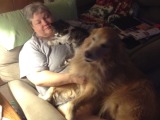 Cold-Brewed Iced Coffee