Parsley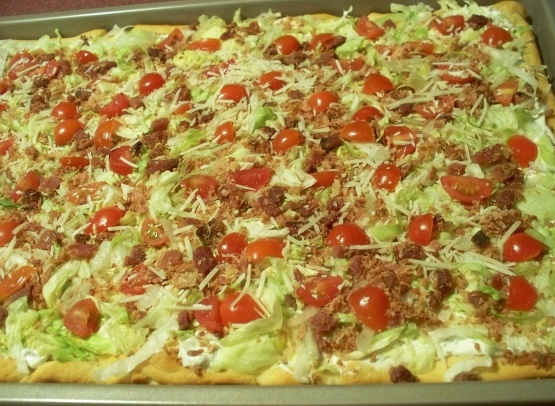 Great snack or appy for parties/get togethers. I use reduced-fat products, but feel free to use the full-fat versions. I recommend using diced grape tomatoes, since larger tomatoes can make to much liquid.
Preheat oven to 375.
Press crescent dough into a 10" x 15" cookie sheet. Pinch all seems together to form a crust.
Bake crust at 375 for 10-12 minutes. Remove from oven and allow to cool completely.
In a small bowl, beat together the cream cheese, sour cream, mayo horseradish, onion and dill until smooth.
Evenly spread over the cooled crust.
Top with the shredded lettuce, diced grape tomatoes and crumbled bacon, and parm cheese. Lightly press down into the cream cheese/sour cream mixture.
Cut into squares to serve.