SaraFish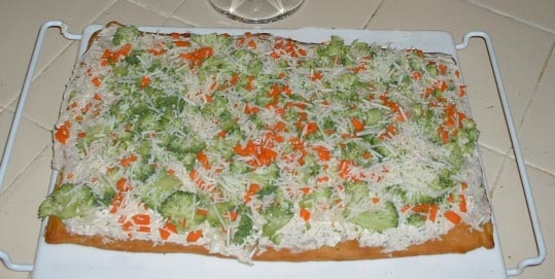 Made with ingredients you already have on hand - no need to go buy expensive preservative-laden dip mix! An easy combo of croissant dough, herbed cream cheese and fresh veggies. A delicious, light, colorful snack or appetizer.

This is a delicious appetizer that is just a little bit different. I made mine with light cream cheese, but who would know? It's very satisfying and pretty to look at, too.
Unroll crescent dough onto cookie sheet you have covered with foil and sprayed with Pam.
Pinch all the seams together to form one big rectangle.
Bake at 375°F for about 11 minutes until golden brown.
Set aside to cool.
Meanwhile, whip cream cheese with a fork and add herbs and spices.
Set aside.
Mix your veggies together in a separate bowl.
Spread herbed cream cheese mixture over cooled crust, sprinkle with veggie mixture.
Pat down lightly to make veggies stick.
Sprinkle cheese over veggies.
Cut into bite size pieces.