Colcannon (Mashed Potatoes With Cabbage)
lazyme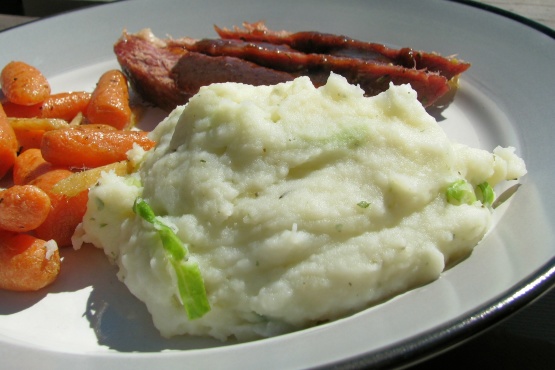 This dish is traditionally served in Ireland at Hallowe'en with a coin buried in it. Whoever gets the coin in their serving has good fortune coring their way!

This went along with roast beef tonight. Selected largely because I had some aging cabbage that was taking up room in an overcrowded ZWT fridge, lol. Glad that I did, I had 4 at the table and 3 of us really enjoyed while DH was his usual curmudgeon self (he misses out on so much good stuff!). Anyway, I just followed the recipe and had a very nice side, the gravy tasted good on it too. :D
Peel the potatoes, cut into 1" chunks.Boil or steam the potatoes in salted water until fork tender, about 30 minutes. , drain.
Steam the cabbage, scallions, 1/4 cup water and 1/8 tsp.salt to boiling, reduce heat and cook until crisp-tender, about 10 minutes. Drain.
To the potatoes, add the milk, 1 teaspoons salt, pepper. and butter. Mash until smooth.
Stir in cabbage and scallions.
Dot with butter and serve. (Don't forget to tuck a coin in for luck!).